Faceted Beads by Bruce St. John Maher
THIS PAGE IS A TRIBUTE TO A GREAT ARTIST!
IF YOU WANT TO PURCHASE SOME OF THESE BEADS,
THEY ARE IN OUR SHOPPING CART:
ENTER HERE: shop and order on a Secure Server!

IF YOU ARE JUST LOOKING: SCROLL DOWN,
AND CHECK OUT THE EYE CANDY!
Landscape faceted beads by Bruce St. John Maher. These things are incredible! They are hand painted in layers with iridescent paints for a beautiful 3-D effect. (*Very* labor intensive: hand painted in layers and cooked in a kiln between each layer, then faceted and polished.) Each piece is unique, with amazing attention to detail.
The photographs cannot do justice to these items- the 3-D effect is wonderful, and many of the colors change as the piece is viewed from different angles!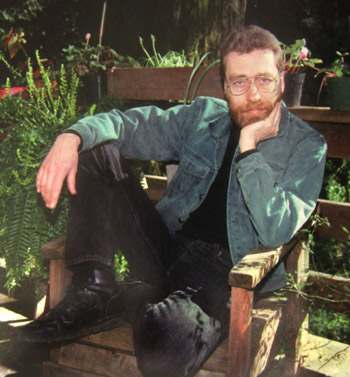 These are some of the artistic works that have earned him international praise and awards.
As of 2012, he has some of his work on display in the Louve- they are under the same roof as the Mona Lisa! This is the highest honor for a visual artist that I know of.
Some of these beads have areas of color change: lilac pink to blue, a true color change created with rare earth additives.
The beads with a white opal moon often have glow-in-the-dark agents on the opal, which is really cool and shows Bruce St. John Maher's attention to subtle details. These are rare earth/ metals- NOT phosphorus, but phosphors. Check out the pictures below- they are really cool!
Short Landscape Beads
Short Landscape Beads in oval and cube shapes
Here they are from above: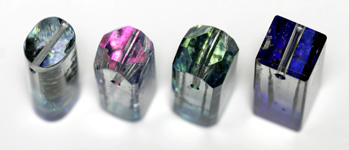 Short Oval Landscape
bead; $ 130.00:

Short Cube Landscape
bead #1; $ 130.00:

Short Cube Landscape
bead #2; $ 130.00:

Cube Short Landscape
bead w/opal moon; $ 150.00:

Long Landscape Beads
Friendship Beads crafted by Bruce St. John Maher
Scarabs
Scarabs, pastel Color Change
incandescent light

incandescent light

incandescent light

incandescent light

fluorescent light 1-4:

incandescent light

incandescent light

fluorescent light 5-6:

Buprestids

Beetles- glow in the dark like a firefly
BB-BU-01:

BB-BU-02:

BB-BU-03:

BB-BU-04:

BB-BU-05:

BB-BU-06:

BB-BU-07:

BB-BU-08:

Optic Beads
The Master Series Beads
3-D Irridescent Iris

3-D Irridescent Iris

Moon in Moon scenic bead:
signifies the Mom/Daughter relationship
opal moon inside larger moon

*****************************************************************************
Amethyst to Chrysoberyl: Amethyst, Ametrine, Andalusite, Apatite, Aquamarine, Benitoite, Beryl, Bytownite, Chrysoberyl.
Citrine to Garnets:Citrine, Diamond, Diopside, Emerald, Garnets.
Iolite to Quartz (Smokey): Iolite, Moldavite, Obsidian, Opal (faceted), Peridot, Petalite, Green/Gold Quartz,Rose Quartz, Smokey Quartz
Ruby, Sapphire:The corundum family of colored gems!
Scapolite to Tanzanite: Scapolite, Spectrolite, Sphene, Spinel, Sunstone, Tanzanite.
Topaz to Zircon: Topaz, Tourmaline, Zircon
Man-Made Materials: Lab-grown and other materials.
Curved Facets: Various Gems with Curved Facets.
Opal Cabochons: Opal cut as "Cabs".
Faceted Beads by Bruce St. John Maher
Use this opportunity to check out our quality faceting rough or take advantage of our discount prices on our full line of quality lapidary equipment and supplies.
We offer prompt, courteous service, shipping on most items within 24 hours, a no-nonsense satisfaction guarantee, and excellent after-sale support.





Ordering is easy at the Facet Shoppe; choose the way that works best for you...

Back to the Facet Shoppe Home Page

Comments or Questions? E-mail us Now!
Page maintained by John Franke, jfranke@gemcutter.com. Copyright(c) 2005-2012.
Updated: 6-18-12 All Rights Reserved.